Jersey States introduces stricter rules for hospitality jobs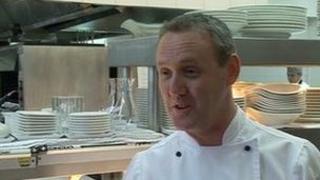 Tighter controls on who can work in Jersey's catering and hospitality industry are being introduced by the Home Affairs Department.
The new rules limit the jobs available to anyone from outside the European Economic Area.
Andrew Hunt, the assistant director of the customs and immigration service, said the change was aimed at protecting local workers.
He said there have been clear cases of people lying to get jobs.
Mr Hunt said: "In our experience the types of abuses we have seen are where people supply false references, evidence of false qualifications.
"What they try to do is make themselves look more capable or experienced than they actually are. In our experienced and the checks we've carried out, it shows they don't have that knowledge or experience."
The change is in line with new rules in the UK on employing migrants from outside the European Economic Area.
'Fantastic calibre'
Mr Hunt said the rules would only apply to new people trying to come to work in the island, including specific regulations on chefs.
Hotel managers coming to the island from outside Europe will have to have a degree, and chefs will have to prove they have a minimum of five years' experience. They will also need to be able to earn nearly £30,000 per year.
Gerald Fletcher, the chief executive of the Jersey Hospitality Association says the system needed to be flexible.
He said he was worried strict qualifications rules could put off new talented chefs.
Michelin-starred chef Mark Jordan said recruiting from overseas was inevitable in some circumstances to find the best talents.
He said: "If I want to set up a Michelin-starred Chinese restaurant, I wouldn't be able to get the calibre of chef from here or the UK, I would have to go outside.
"I'm not saying I want to set up a Chinese or an Indian but we need the scope for me to go further afield and employ a head chef of a fantastic calibre."