Guernsey animal shelter rescues second seal pup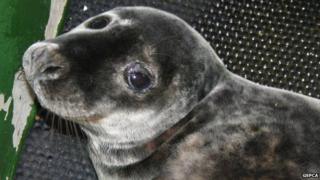 Two seal pups are being nursed back to health in Guernsey after they were found washed up on the coast.
A spokesman for the Guernsey Society for the Protection of Cruelty to Animals (GSPCA) said they were starving.
The recent bad weather has resulted in pups being separated from their mothers in many coastal areas.
Eden was found in Havelet Bay on Thursday, just 24 hours after Trinity who was discovered on Wednesday.
The charity's manager, Steve Byrne, said it would be a while before the pups were released back into the wild.
Animal Collection Officer, Geoff George, was called to collect Eden and said she was "one of the thinnest pups we have had in many years".
Eden should weigh over 40kg but was just over 15kg when discovered.
Mr George said: "This bad weather really hasn't helped our seal population around the Bailiwick and both Trinity and Eden are just two of the casualties.
"We will have to tube feed Eden every two hours or so through the night, if not over the next few days if she has any chance of survival."