Jersey States in call for cut in drink driving level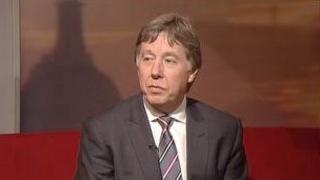 The amount of alcohol people can drink before driving could be lowered in Jersey.
The Council of Ministers is proposing a new alcohol strategy that it says will "protect people from harm but respect their right to a drink".
Currently, the maximum legal level of alcohol in the blood when driving is 80mg per 100ml of blood.
If approved by the States, this could be lowered to 50mg in line with countries in the EU.
Police say there were 19 people caught drink driving on Jersey roads in December, four after an accident.
Chill out hour
Assistant Chief Minister Senator Paul Routier says having a zero drink drive limit would not be workable.
He said: "I'm not sure it is realistic as there is the law and the way people are found to be driving with drink in their system. We need a system that is workable and the police can work with."
Senator Routier said the aims of the new law were to reduce alcohol-related crime, protect children and promote healthier lifestyles.
Senator Lyndon Farnham, President of the Hospital Association, said new laws were not needed to tackle alcohol abuse.
He said: "We don't think there is a lot wrong with the existing law that can't be rectified with some sensible fine tuning.
"Moves to prohibit consumption of alcohol through heavy-handed legislation simply won't work."
As part of the proposition, staff in the drinks trade could be trained to spot the signs of drunkenness in their customers as a condition of their jobs.
If approved, the proposal could also see a "chill out" hour introduced after normal closing time for clubs where food and soft drinks are served.
The UK has the highest drink drive limit in Europe at 80mg per 100ml. In Hungary, Czech Republic and Slovakia, the limit is zero.