Jersey chief minister in call for planning minister sacking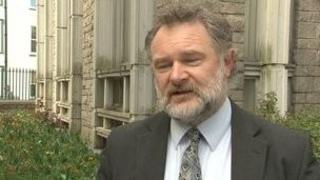 The planning and environment minister should be dismissed from the role, according to Jersey's chief minister.
Senator Ian Gorst said Deputy Robert Duhamel did not work well with other ministers who had "lost trust and confidence in him".
He claimed most of the council of ministers backed the call for Deputy Duhamel's dismissal.
But the deputy said he would defend himself against all accusations. He said he had never failed in his duties.
He said: "There are a number of States members who are part of the council of minister who regretted the decision was taken to give me the job in the first place.
"They have struggled with that decision and have sought whatever reasons and opportunities are needed to propose this dismissal."
Lack of trust
The Chief Minister needs approval from the body of States members to hire or fire a minister.
Senator Gorst said the council of minister could no longer work with Deputy Duhamel.
The senator said: "He has failed to provide ministers, fellow States members and officers with straight answers to straight questions.
"He has dissembled, chosen not to disclose critical pieces of information and hidden behind omissions and silence. Neither the council, nor this assembly, nor his department can function fully and effectively in those circumstances."
The chief minister said he would like to see the system changed so he can fire a minister without having to go to the States.
"The process is far from ideal, it is one I am dissatisfied with.
"It is a difficult process and one where I have to go to the States and talk about issues I would rather not talk about."
Deputy John Young chairman of the environment scrutiny panel, backed the under fire minister.
He said: "It has been rumoured for months this was in the wing but I was still shocked to see it.
"The role of the planning minister is the most difficult role any minister can be asked to take on, they are never going to please everybody.
"I think it is very sad this is being proposed and I hope the chief minister will pull it back."