Jersey drivers in cavalcade tribute to crash victim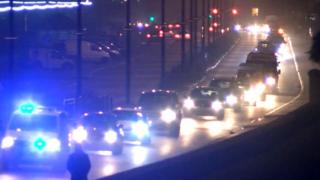 Hundreds of cars joined a convoy across Jersey in memory of a man who died in a car crash.
About 450 cars took part in the cavalcade in tribute to Vitor Dinarte Fernandes, 22, who was killed in a crash near First Tower.
Victoria Avenue was closed on Monday evening while the cavalcade of cars passed through.
Centenier Danny Scaife, from St Helier, said he had never seen anything like it before in Jersey.
He said the cavalcade was about three miles long and started at Le Braye Slip in the west, running to St Catherine's in the east.
"It took nearly 28 minutes to pass through one junction," Mr Scaife said.
"When the last car was passing first tower the lead was already at Gorey Castle.
"It was incredible, it would have looked great from the sky, it was so unusual for Jersey."
A 47-year-old woman and an 18-year-old man were also injured in the crash on Monday 30 December.
States of Jersey police arrested a man in his 20s after the crash, but he was later released.