Plemont holiday village fire closes Jersey coastal path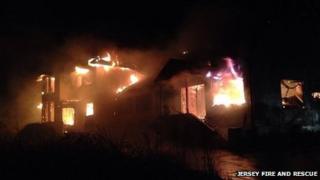 A coastal path in Jersey has been closed following a fire at a former holiday village.
The blaze on Saturday morning destroyed the main building at Plemont in St Ouen. No-one was injured.
Parts of the structure are unstable and may have to be demolished. The cause of the fire is being investigated.
The coastal path will remain closed until Monday because of smoke and loose debris from the blaze, the island's Honorary Police said.