Woman and child saved from fire in Jersey by smoke alarm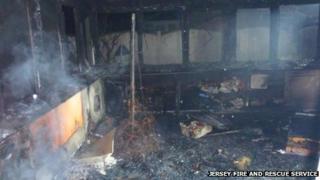 A smoke alarm saved the lives of a woman and a child when a fire broke out at their home in Jersey.
The blaze in St John's started in the conservatory and spread to rest of the building.
Paramedics treated an eight-year-old boy and his mother for smoke inhalation. The boy's father was also treated after he returned to the property while it was on fire.
Emergency services were called to the house at about 00:50 GMT.
A spokesman from Jersey Fire and Rescue Service said the building was extensively damaged by smoke and the conservatory was completely destroyed by the fire.
He said the most likely cause of the fire was a faulty heater in the conservatory.
Martin Alex, the director of emergency response, said: "Mum and the boy made their way out of the house… they were met by dad who was returning from a night out with friends just outside the house."
Dave Dingle, watch commander, said: "This was a serious incident but it could have very easily been a tragedy."