St Aubin improvement work to begin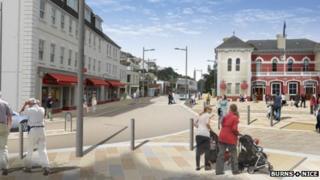 Moves to improve safety for Jersey's pedestrians and cyclists should be completed by the spring, according to St Brelade Constable Steve Pallet.
A £950,000 project to make changes to St Aubin is due to start on 6 January.
Mr Pallet said the "much needed" project provided "a safer environment" for visitors and residents.
He said the work was being undertaken after "complaints over a long, long period of time" and would take four or five months to complete.
The Technical and Transport Services Department is behind the project, which includes building a dedicated cycle track, traffic calming measures and reducing the speed limit to 20mph.
Mr Pallet said currently cyclists take their lives in their hands when using the thoroughfare.
He said while no new car parking spaces would be created, none would be lost, and "a reasonable level of parking [would be] maintained during the quieter winter months".