Channel Islands Christmas Lottery record jackpot claimed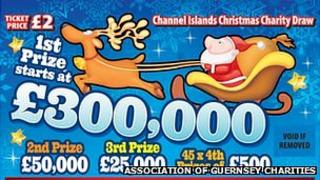 The Channel Islands Christmas Lottery record jackpot of just over £1m has been claimed by an anonymous winner.
The holder of the £1,038,000 winning ticket claimed the prize in Jersey.
The increase in the jackpot followed a change in format for the lottery, with tickets doubling in price to £2 but each having two chances to win.
The £50,000 second prize, won by a ticket sold in Guernsey, has yet to be claimed.
The £25,000 third prize was claimed a day after the draw on 19 December.
The winnings have to be claimed within 12 months of the draw.
The proceeds of the lottery are split between the charity associations of Jersey and Guernsey based on the proportion of tickets sales, with the division usually about 60% for Jersey and 40% for Guernsey.
In 2012, the associations received £400,000 and £190,000 respectively.
The annual lottery has been running since 1975 and money has been donated to charity since 1986.
The previous record prize was £751,500 in 2011.