Channel Islands air search plane to be replaced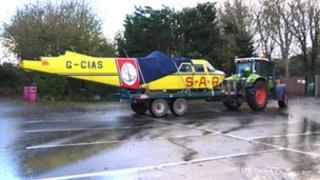 The Channel Islands Air Search (CIAS) plane which crashed in Jersey while searching for two lost fishermen will be replaced, the charity confirmed.
An "exhaustive" study of the Lion's Pride found it was more cost-effective to replace it than attempt repairs.
Roger Dadd from the charity said replacing the 30-year old Islander would be a three-step process.
Britten-Norman which makes the Islander will provide CIAS with a temporary aircraft within four to six weeks.
Mr Dadd said this would have limited technical capabilities but would allow it to continue operations.
All five crew members walked away from the controlled crash landing unhurt and the two fishermen were later recovered.
John Hardie, the pilot, was praised by his fellow crew for bringing the plane down safely in a field in St Mary, near cliffs on Jersey's north coast.
The Channel Islands Air Search has estimated the cost of replacing the Lions Pride would be £3m.