Jersey States set one question for reform referendum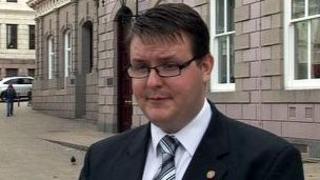 A referendum on Jersey political reform will now ask one question after it was ruled that two could cause confusion.
Politicians voted in November to ask two questions covering the role of constables and whether there should be a single type of politician.
However the privileges and procedures committee (PPC) said the proposed format "might be difficult for the results to be interpreted clearly".
A single question about the type of members will be put in October 2014.
Chairman of PPC, Deputy Jeremy Macon, said reform needed to be done properly after several "botched attempts".
He was elected as chairman of PPC in in July after former chairman, Constable Simon Crowcroft, resigned having failed to get approval for reform plans.
'Automatic right'
Deputy Macon said voters should decide the make-up of the government, rather than an external inquiry, as suggested by the Chief Minister.
The Deputy said: "The Committee has decided to develop a single referendum question which will ask Islanders whether they want a States Assembly made up of a single category of States member, to be elected in parish-based districts.
"This would encompass the removal of the automatic right of the Constables to sit in the States, in line with the recommendation made in the 'Clothier Report' in December 2000."
The States of Jersey government currently has 51 politicians - 10 senators elected island-wide, 12 constables with one elected from each of the 12 parishes and 29 deputies elected from 17 different constituencies.
In April, Jersey voters decided to back plans to do away with the role of senator, while electing 30 deputies in six large districts, along with 12 connétables.
However, the result was not binding on the States which rejected the public's choice in July. The winning option had received 8,190 votes in a 26% turnout.
Sam Mezec, chairman of campaign group Reform Jersey, said he fully supported the move to ask one question.
He said: "The reason the last referendum was ignored was not because States Members have a predilection for ignoring referendums. It's because the winning system was a totally defective system.
"Also this referendum will be on election day, so will have a higher turn out.
"It's also a yes/no question, meaning that the result will have a majority, unlike Option B which only got 49% of those that voted.
"Plus we will be able to only elect candidates who promise to accept the result."