Jersey in talks to define its own fishing policy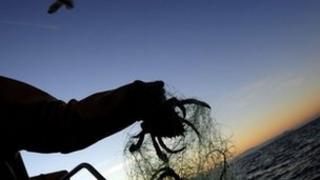 Fishermen could be given the right to manage the seas around Jersey.
Talks have been announced on the plan which has been backed by the Fisherman's Association.
In 1996, an agreement was signed to follow a European system, but if the talks are successful Jersey would regulate its own commercial fishing opportunities and marine resources.
The government plans to meet with the UK Department for Environment, Food and Rural Affairs (DEFRA) in January.
Talks are likely to continue throughout the year.
Deputy Carolyn Labe, Assistant Minister for Economic Development, said the issue was "complex" and included a "proposal to extend territorial waters from three to 12 miles".
Don Thompson, of the Jersey Fisherman's Association, said: "Our waters are not European waters and never were."
Mr Thompson has previously said that EU quotas had lost the island millions of pounds and had damaged its fishing fleet.
Jersey will send representatives from several offices, including the environment and economic development departments.