Les Quennevais school: Jersey minister publishes plans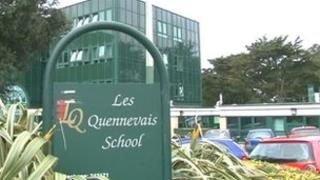 Plans for the future home of a Jersey school have been outlined by the education minister.
Deputy Patrick Ryan said he had been asked to look at a range of locations for Les Quennevais school.
The school was built in the 1960s for 450 pupils, it now has almost 900 and has been described as "overcrowded and outdated".
The favoured site is near Jersey Airport on what is currently privately-owned farmland.
'Loss of farmland'
Doug Richardson, vice-president of the Jersey Farmers Union, said he was concerned over the possible loss of farmland.
He said: "It will need to go through due process, the stakeholders will need to sit around the table and work out the pros and cons but yes, there is a concern in the first instance.
"We need to educate the next generation and need facilities to do that but there is a concern for the loss of agricultural land.
"There is always less agricultural land available, as population increases people need to live somewhere and things get developed".
The land proposed by Deputy Ryan is currently marked as green zone, and made up of about six farming fields, each with a different owner.
The minister said the land should be rezoned if it turned out to be a suitable choice for the new school.
There will now be a feasibility study to find out whether the site is suitable for development. Deputy Ryan said he hoped to start building the school in 2016.
Deputy Ryan said: "I must stress that the project is at an extremely early stage and we have a long way to go before we are even in a position to confirm that this is the right site.
"However, the Council of Ministers have indicated they would support a funding proposal as part of the next Medium Term Financial Plan.
"A new secondary school will be a major but essential investment in education for children in the west of the island.
"States Members will decide whether to pursue the proposal when they consider future capital expenditure at the end of next year.
"If they do, the aim would be to start building in 2016 with a view to opening a new Les Quennevais School in 2018."