Jersey Bailiff's dual role could be split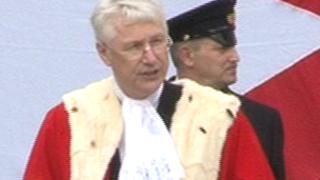 The role of Jersey's Bailiff could be split when Sir Michael Birt retires from the position.
Several reviews examined the issue of being both the president of the States and head of the legal system.
The latest, in 2010, found there was a risk the Bailiff could be seen as not completely impartial when involved in making and administering laws.
Constable Simon Crowcroft has proposed the change, which is due to be debated by the States early in the new year.
Sir Michael Birt was appointed as Bailiff in 2009 and has announced he will stand down in January 2015.
In his 2010 report the former High Court Judge Lord Carswell recommended the States should elect their own president from either within their own members or from outside the chamber instead.
The Bailiff is the civic head or first citizen of the island, and some people have suggested splitting the role could reduce its importance in the island.