Jersey minister says 'most benefit' from 2014 tax cut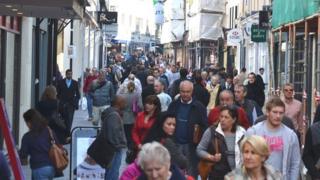 About 80% of people in Jersey will get a tax cut from next year after the 2014 budget was approved by politicians.
It took three days to debate the budget, which will also see £300m spent on a new hospital and the States borrow £250m to fund social housing.
Duty on tobacco, alcohol and fuel will go up but not by as much as originally proposed.
Treasury Minister Senator Philip Ozouf said budget "delivered important changes for Jersey".
He said: "This is a budget that delivers that economic growth, it delivers an environment that can have job creation, it does improve education.
"This budget does things for sport in a way that never has been achieved in recent years.
"We are doing things for children at university, we are solving long term care, we are solving health and we are solving housing."
The marginal tax rate will be cut by 1% to 26%. Senator Ozouf said this would mainly benefit people earning up to £60,000 per year.
Senator Ozouf also announced a £3,000 increase in the tax allowance for people paying to put a child through university. This exemption will now be £9,000 per child per year.
The amount drivers pay in duty will go up, but at a slightly lower amount than originally intended by the Treasury.
Following a change to the budget in the States, the price of fuel at the pumps will rise by 1.5% from January instead of 2%.
Duty on tobacco, spirits, strong beer and cider are set to go up by 11%. This means 47p will be added to a pack of 20 cigarettes.
Constable Simon Crowcroft had hoped to peg the rises to inflation, but that was rejected after intervention by the treasury minister.
Off-licence owner Ian Rayson said he was expecting a drop in business after the duty increase.
As well the rise on strong alcohol, islanders are set to pay another 3% on most beers and wine.
Deputy Sean Power said the system for setting duty increases needs to be changed for future budgets. His proposition to block all duty increases was rejected by members.
He said: "Middle income Jersey and those struggling for years with the economic downturn will be struggling now. These rigid annual import increases simply cause more pain."