Jersey Bailiff announces retirement in January 2015.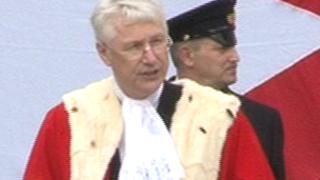 Jersey's Bailiff will retire in January 2015 after five-and-a-half years in the role.
Sir Michael Birt will retire from the role, as head of the parliament and judiciary, after the new States has been constituted.
The Chief Minister Senator Ian Gorst said it had been a pleasure to work with the bailiff.
He was knighted in the 2012 Birthday Honours List for services to the Crown and community in Jersey.
Sir Michael served as Attorney General from 1994 and was made deputy bailiff in February 2000 before becoming bailiff in 2009.
The announcement was made in the States by the Deputy Bailiff, William Bailhache.