Jersey maternity pay 'behind the times'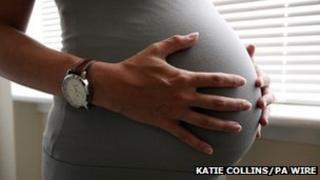 Jersey is "well behind the times" when it comes to maternity legislation, says the island's social security minister.
Jersey does not have any maternity legislation, although many companies offer two weeks' paid leave.
Senator Francis Le Gresley said he hoped the States would agree to new maternity legislation by next summer and a new gender discrimination law.
Fiona Vacher, the head of the Jersey Childcare Trust, said many mothers returned to work after two weeks.
She said: "New mothers in the island aren't legally entitled to any paid leave but many employers offer it by following what's considered good practice."
Senator Le Gresley said the legislation would offer mothers two weeks' paid and 16 weeks' unpaid maternity leave.
He said he would like to offer more but he needed to keep costs to employers down as they were struggling in the current financial climate.
He said the plan was to introduce the legislation at the same time as a gender discrimination law by the summer 2014.