Jersey man given compensation after fireworks failure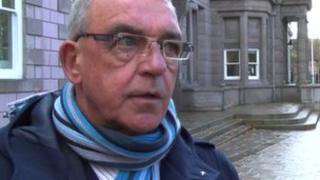 The organiser of a failed firework display who had to sell his house to cover losses has been compensated by Jersey's government.
Politicians agreed to pay Terry McDonald £50,000 to help cover costs after his 2007 display was stopped due to environmental concerns.
Mr McDonald was trying to break the world record for the number of simultaneous rockets fired.
He had been asked to make the record attempt to raise money for charity.
The fireworks expert lost his home and job after it was called off at the last minute over concerns about its impact on the environment.
If it had gone ahead he would have ignited 110,000 firework rockets for the Side by Side disaster relief charity.
He had approval to let off the fireworks after the Battle of Flowers parade on 10 August 2007, but the Environment Department raised concerns about the waste and the cost of clearing up at the last minute.
His previous record of 39,210 rockets in 1997 was beaten by Roy Lowry in 2006 with 56,405 rockets in Plymouth.
Mr McDonald said he was grateful for the money but it was not quite enough as he had lost nearly £500,000.
He said: "This is has never been about compensation, money is not what it is about. I want to be exonerated for want of a better word, I want closure.
"I want to be able to pick myself up, dust myself off and get on with life."
Mr McDonald had to buy the rockets, but was unable to sell them on after the failed attempt and due to their explosive nature he had to guard them around the clock, sleeping in a caravan next to where they were stored until they could be destroyed.
The rockets were destroyed by Jersey Police's explosives officers who dealt with them in batches of 2,000.
He said: "I have tried to behave really like a gentleman should, throughout the whole thing I have tried to behave properly, not get stressed, swear and curse.
"The people we were trying to raise the money [for] to build a school were the real losers and are the ones I feel sorry for."