Jersey's disused Bellozanne chimney to undergo maintenance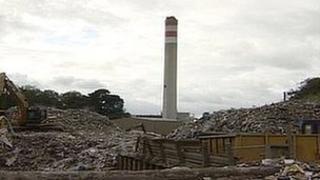 The chimney at Jersey's former waste plant is to undergo maintenance, despite being scheduled for demolition.
A Transport and Technical Services Department spokesman said a condition survey had revealed steel flues and loose concrete that required removal.
During the work the Hunts Jersey scrap metal yard at the base of the chimney will move to the old Picot and Rouille site at the top of the valley.
Work to demolish the 100m (328ft) chimney is due to begin in the spring.
Its demolition and the move of the island's scrap metal yard to a permanent home are due to be completed by the end of next year.
The incinerator at Bellozanne was replaced by a new energy from waste plant at La Collette.