Channel Islands search plane removed for repairs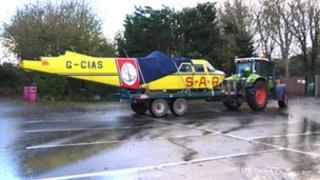 The Channel Islands Air Search plane which crashed in Jersey while searching for two lost fishermen has been removed for repairs.
The wings and tail of the Islander aircraft, named Lions Pride, had already been dismantled in preparation for repair work in Scotland.
The air search charity hopes to raise £1m to repair the Guernsey-based plane.
All five crew members walked away from the controlled crash landing unhurt and the two fishermen were later recovered.
Wrong tanks
John Hardie, the pilot, was praised by his fellow crew for bringing the plane down safely in a field in St Mary, near cliffs on Jersey's north coast.
He managed this despite strong winds and poor visibility.
Both engines had cut off out after being starved of fuel.
The Air Accident Investigation Branch subsequently published initial findings showing the secondary fuel tanks - known as "tip tanks" - had been selected.
This meant the engines cut out despite the main tanks having a plentiful supply.
On Tuesday, engineers moved the main body of the plane to the airport on a flat bed trailer.
From there it will be taken to Cumbernauld in Scotland for further inspection, to establish whether it can be fully repaired.
The Channel Islands Air Search has estimated the cost of replacing the Lions Pride would be £3m.