Jersey inquest hears call for better road signage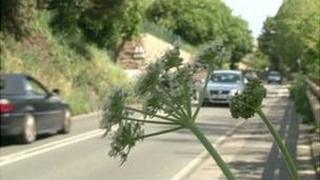 A lack of signage may have contributed to the death of a cyclist on Jersey's Beaumont Hill, an inquest has heard.
Paul Channing, 45, was killed after coming off his bike and suffering a severe traumatic brain injury as he cycled home on 22 May.
Witnesses told the inquest there were no warning signs there could be stationary traffic around the bend.
The Coroner, Deputy Viscount Mark Harris, has written to the States suggesting the signage be reviewed.
After the crash Mr Channing was taken to Southampton Hospital where he died on 28 May.
The inquest heard the storage worker had been let out early from his job at White Company Removals in St Peter and was heading home on a bike he had been given second-hand three weeks earlier.
It heard there were no drugs or alcohol in his body and he had been travelling at about 25mph down the hill when he spotted the traffic.
After going over the handlebars of his bike he landed face first on the road under a car, which had stopped in the traffic.
Deputy Kevin Lewis, Transport and Technical Services Minister, said he was awaiting the coroner's report, but said safety was paramount and staff would look into how to warn people of vehicles approaching on Beaumont Hill.