Temporary asbestos storage approved by Jersey planning minister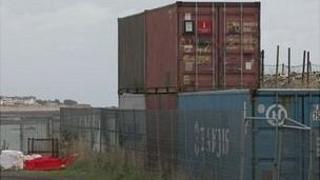 Asbestos will be buried in the ground for up to five years while work on a permanent solution for Jersey is found.
The planning and environment minister approved an application for it to be stored at La Collette reclamation site.
Transport and Technical Services, which is responsible for all waste, first asked to bury it in 2010.
It will need to get approval for changes to the site's environmental management plan and a waste management licence before starting work.
The asbestos is due to be stored in constructed cells in the ground and the conditions of its burial include requirement for a periodic review of other recovery or disposal options.
Deputy Rob Duhamel, Environment Minister, said "I remain determined that waste arising from the island is dealt with in the most environmentally friendly way, which does not leave a lasting impact on future generations.
"I do not believe that burying asbestos in the ground is the best long term solution and I have been pressing for other existing solutions to be looked at.
"I am pleased that Transport and Technical Services have agreed to work with my department and explore alternative options that will result in a better long term answer to the asbestos management problem we have."
Asbestos, which can be lethal if its dust is breathed in, was used as a building material and since the 1980s any removed during renovation or demolition work has been stored at La Collette.