Channel Islands Air Search: Reserve fuel error blamed for crash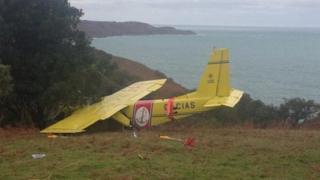 A lack of fuel in the reserve tanks contributed to the Channel Islands Air Search plane crash, a report has found.
The Islander aircraft, with five crew, was involved in a search for two fishermen when it crash-landed on Jersey's north east coast.
All five walked away unharmed after the incident on 3 November and the fishermen were later rescued.
The initial report found the right and then left engine cut out as their fuel ran out 15 minutes into the flight.
The Air Accidents Investigation Branch discovered the cockpit controls which select the fuel supply for the engines were set for it to run off the reserve, or tip, tanks rather than the main fuel tanks.
The report established that the tip tanks were empty having not been refilled from a 50-minute search carried out the previous day, while the main fuel tanks were almost full.
'Not noticed'
It also noted a lack of detail in the fuel checks that "simply established that the main tank quantities were sufficient" and the "absence of a change in the main tank quantities, and the reducing quantities in the tip tanks, were not noticed".
The report said the area where the plane landed was "one of the very few relatively benign areas suitable for a forced landing" among the "rocky cliffs" of Jersey's north coast.
The landing caused "significant damage to wing, left main landing gear and forward fuselage".
John Hardie, 65, was the pilot of the plane that left Guernsey Airport to join the search that involved Channel Islands, French and English Coastguards.
Colin Ferbrache, chief officer of Channel Islands Air Search, described him as "an extremely experienced pilot with a distinguished service and commercial career... amassing some 22,000 flying hours.
Confusing controls
"His record during his career has been hitherto unblemished.
"When faced with a sudden total loss of engine power, he displayed superb airmanship and calmly carried out a remarkable forced landing under appalling conditions resulting in no injury to him or his four crew."
He said "awful flying conditions" including high winds and heavy rain showers, "confusing" controls for switching between tanks and there being "little to alert the pilot that tip tanks were selected" all contributed to the crash.
Mr Ferbrache said this was a known issue and the control system for the tanks was "very different" in later built Islanders and Trislanders.
The plane, which was built in 1982, has been dismantled and is being taken to Scotland for repairs.
The search charity said it hoped a replacement Islander would be used in the meantime to continue the service, which was currently being helped by the Barclay Brothers' helicopter based on Brecqhou.