UK MP says Stuart Syvret jailing 'abuse of rights'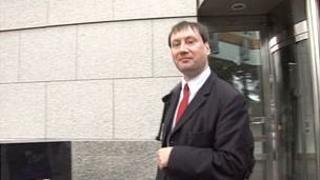 A UK MP says the jailing of Jersey's former health minister for contempt of court is an abuse of his human rights.
Stuart Syvret was jailed earlier this week for failing to turn up in court after being asked to take down online allegations about four islanders.
The Liberal Democrat MP John Hemming now wants the UK Government to review Jersey's judicial system.
A spokesperson for the UK Ministry of Justice said it was not appropriate for the UK Government to get involved.
The spokesperson said in a statement: "Jersey has its own self-governing jurisdiction and judicial system.
"It is not appropriate for the UK Government to become involved in individual cases or interfere in the day-to-day running of the Crown Dependencies."
Data protection acts
Mr Hemming, who represents Birmingham Yardley, said the three-month sentence for contempt of court was an "affront to freedom of speech".
He said: "The British Government is responsible for Jersey's compliance of the European Convention of Human Rights.
"When data protection acts are being used to stop allegations being made about people, without looking at whether they are true, that is a chilling affront to freedom of speech."
Earlier this year Jersey's Royal Court decided Mr Syvret had to remove the offending posts, but he refused to.
The court was told Mr Syvret had continued to write things online about the four despite being "clearly warned" he had breached the Data Protection Law.
He did not turn up in court on Monday and continued to write on the internet saying "he had taken no notice" of the injunction.
He ignored an emailed court order and a batch of documents that were sent to his home, Monday's hearing was told.
The judge Sir Charles Gray said it was a serious and repeated contempt of court which required a custodial sentence.
Mr Syvret was arrested on Monday and is now in La Moye prison.