Island air search charity launches appeal for funds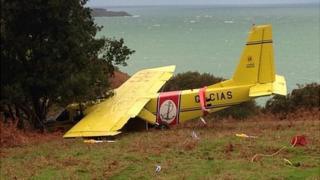 The Channel Islands Air Search is launching an appeal to raise money to either repair or replace its plane.
The Lions Pride was badly damaged during an emergency landing on Sunday night.
It experienced technical problems while looking for two fishermen lost at sea near the Ecrehous and landed in a field on Jersey's north coast.
No one was hurt during the landing and the fishermen were found alive although one is still in intensive care.
A replacement for the damaged Channel Islands Air Search plane could cost "a little short of £3m" according to the service founder Roger Dadd.
He said it was a tough aircraft and the nose, wings and undercarriage damage may be repairable.
Mr Dadd, who was a pilot with the charity for 28 years, said "a replacement aircraft would be considerably more expensive than the one that's just been damaged".
'Several offers'
Derek Short, the Chairman of the Trustees of the Channel Island Air Search, says because of the amount of money needed, they have to start fundraising now.
He said a decision had not yet been made on whether to repair the plane, or buy a new one.
Mr Short says they are considering all options and have already been offered planes from around the world to keep the service running until a decision is made.
He said: "We are hoping to launch the appeal for funds soon. We don't have an exact figure yet as we don't know whether we are repairing or replacing, but we know it will be a lot of money.
"We have already had several offers of aeroplanes but it is a question of pilots, training and suitability for the service we are providing.
"We have offers from organisations, individuals with aeroplanes, we are analysing all the offers at the moment."