Jersey States report finds lack of maths teachers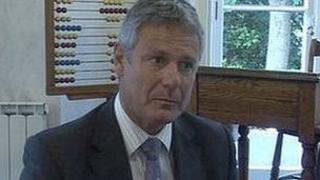 State schools in Jersey are struggling to recruit specialist maths teachers, according to an independent report by UK education experts.
It claims there needs to be a greater emphasis on pupils' numeracy skills and more should be done to recruit specialist trained teachers.
GCSE figures show a slight fall in the maths GCSE pass rate for A* to C grades compared with 2012.
The Education Department said it was working to improve pass rates.
The department said it believed Jersey pupils were not suffering as a result of a lack of teachers but agreed with the report that more training was needed.
High standards
Director of Education, Mario Lundy said: "It is important for all our students to be proficient in maths and numeracy and we need to keep driving up standards.
"That is why we commissioned this review. We will use the findings to ensure standards in maths are as high as possible in Jersey."
Figures published by state schools this week show not enough of their students are achieving an A* to C level in literacy and numeracy.
The percentage of students getting at least 5 A* to C grades ranges from 66% at Grainville, down to 47% at Le Rocquier.
When Maths and English are factored in that changes with only 24% of pupils at Le Rocquier achieving at least 5 A* to C grades in subjects including Maths and English. At Haute Vallee, only 15% achieved this.
The 2013 performance was worse or around the same as 2012 except Grainville, which improved considerably. The school saw 56% of pupils achieve a pass in their maths GCSE.
Sue Morris, deputy head teacher at Grainville school, said: "We have booklets to make sure teaching elements are appropriate.
"The head of maths this term is going to schools in the UK to look at maths specialism to see ways we can improve."
Mr Lundy said: "Schools are working hard to make improvements in this subject and we are confident they are moving in the right direction.
"However, the greatest challenge for us is recruiting specialist maths teachers. This is not just a Jersey problem; it's being experienced by schools across the UK."