Jersey rescue plane crash: Missing fishermen found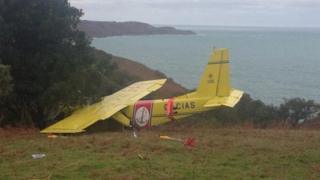 Five men who went missing in a dinghy off Jersey have been found after a five and a half hour search of the seas.
Two of the fishermen were taken to hospital with suspected hypothermia. The others stayed on the Ecrehous reef overnight before being picked up.
A search-and-rescue plane with five people on board crash-landed while searching for the missing fishermen.
No-one was injured in the crash, which happened after 19:15 GMT near the Priory Inn at Devil's Hole, St Mary.
The French and Jersey coastguards, along with lifeboats from Jersey and Alderney and the Solent Coastguard, were involved in the search.
Myra Shacklady, from the Ports of Jersey, said the men had gone out in "atrocious weather" to check their moorings on Sunday afternoon.
She said they ran into trouble about 18:00 and raised the alarm.
The two men were rescued at 23:15 by the Lee-on-Solent Coastguard helicopter from the north-east coast of the Ecrehous, a group of islands and rocks six miles north-east of Jersey.
One of them, aged 46, was treated and discharged while the other, aged 40, remains under observation in the Jersey General Hospital's intensive care unit, where his condition is described as stable.
The three men who spent the night on the reef were brought back to Jersey by another fishing boat.
'Amazing feat'
Colin Ferbrache of Channel Islands Air Search, a charity with one plane operated out of Guernsey, said: "The aircraft was sent out to search for two missing people.
"While it was up there it suffered some engine problems. Luckily the five man crew all got away uninjured which is an amazing feat when the conditions were so awful.
"The winds were gusting and it's very difficult to land at night."
A Jersey Police statement said: "At 7.15pm the emergency services received a call from the Airport Fire Service and Coastguard who were reporting issues with a Channel Islands Air Search (CIAS) plane.
"The plane subsequently made an emergency landing in a field in St Mary.
"The aircraft is confirmed as the Lion's Pride, a PBN-2B Islander aircraft built in 1982."
The force said it was liaising with the Air Accidents Investigation Branch about its investigation of the crash.
John Dowling, manager of the Priory Inn, said the five people on board had gone into his pub with police after the crash.