Jersey Co-op claims heritage plans would lose it £12m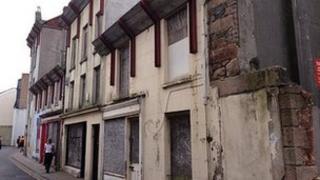 The Channel Islands Co-op has claimed it will lose £12m if heritage groups' plans for a St Helier site go through.
Save Jersey's Heritage and the National Trust for Jersey successfully objected to the society's own plans for a food store and offices at Charing Cross.
These were rejected by the island's planning panel in August.
The campaigners claim their plans for a smaller store will still let the Co-op make a profit but its chief executive says they will be "suicidal".
Colin McLeod said: "We've had it independently, professionally, appraised and it would lose our members £12m from the value of the society.
"I'm not quite sure why they're exhibiting a scheme for a site that they don't own," he said. "It's almost unthinkable. It would be suicidal for us as a business."
However, Charles Alluto, the chief executive of the National Trust for Jersey, said a loss of potential profits did not equate to a financial loss.
"If you actually strip that value out - and just look at it without site value - then we actually think that our scheme would result in a profit for the Co-op of £2.3m," he said.
The heritage groups' alternative proposals would see all six listed buildings restored and the current supermarket demolished and replaced with a three-storey building.
The groups will put their plans on public display at the Town Hall on Wednesday.