Long-term asbestos solution for Jersey 'ongoing'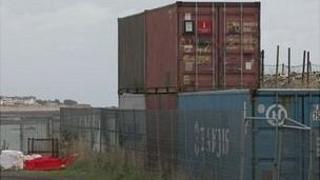 There is still no long-term solution to dealing with Jersey's asbestos mountain, bosses have admitted.
About 200 tonnes of the building material is piled in shipping containers at La Collette.
After three years of work, it is hoped that Jersey States will grant planning permission to bury the asbestos in the next few weeks.
Minister Kevin Lewis said work to export the toxic material was ongoing.
He said: "We can't just export toxic materials because, even though we're an autonomous island, we're not part of the EU, so we have to go through the UK for permission to trans-ship... so everything has to be done by the book."
Mr Lewis said the move to bury the containers was not about ignoring the issue but was a short-term measure while a long-term solution was found.
Asbestos, which can be lethal if its dust is breathed in, has been stored at La Collette since the 1980s.