Storm fells trees and power lines in Channel Islands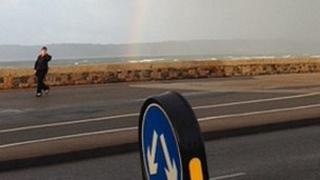 More than 20 trees have been knocked down as gusts peaking at 71mph (114km/h) hit the Channel Islands.
Jersey was the worst affected island, as the Atlantic storm St Jude brought down trees which blocked roads in Waterworks Valley and St Martin.
Condor Ferries cancelled its fast ferry sailings. Its traditional Clipper vessel had to dock in Guernsey and was unable to cross to Jersey.
A Jersey Met buoy, five miles south of Jersey, recorded waves of 28ft (8.5m).
Isle of Sark Shipping cancelled its morning sailings.
Early flights to both Bailiwicks were delayed for a time but the storm died down soon after dawn and flights resumed.
Jersey Electricity said power had been restored to approximately 30 households which had lost their supply after four power lines were brought down.
Roads in Jersey were cleared by 07:00 GMT, while in Guernsey there was no significant disruption to traffic despite the island recording stronger gusts.
Jersey Met reported a maximum gust of 62 knots (71mph) at 03:28 in Guernsey, while Jersey's highest gust was at St Helier Harbour at 04:00, peaking at 59 knots (68mph).
Meteorological observers in Guernsey had warned the Channel Islands could face the brunt of the storm but the strongest winds were recorded further north along the south coast of England.
Deputy Kevin Lewis, Jersey's Transport and Technical Services Minister, said: "This is pretty bad but it could've been far worse."