Jersey Wetlands Centre project delayed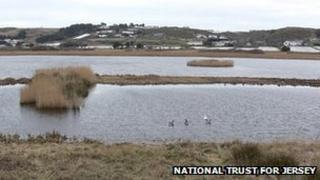 Work to rehome animals living near St Ouen's Pond delayed the opening of the Jersey Wetlands Centre.
The National Trust for Jersey had to relocate lizards and other small animals to allow the building of the centre to begin last year.
This took longer than expected so the centre's opening, due this autumn, has been delayed until February.
The centre aims to offer nature lovers a chance to get closer to wildlife and teach them about the wetlands habitat.
John Parkes, acting lands manager, said the charity did not want to damage the wildlife in the "sensitive area" it wanted to give people access to.
He said the animals rehomed included green lizards and slow worms.