Jersey woman gets award for double channel swim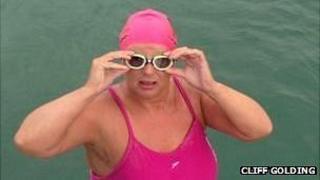 A double channel swimmer has been given an award for courage by Jersey's government.
In August Wendy Trehiou spent 39 hours in the water swimming across the English Channel and back in one go.
To mark her achievement as the first Jersey woman to complete the double swim, the States of Jersey awarded her the Churchill Award for Courage.
Mrs Trehiou will be the sixth recipient of the award since it was introduced by the States in 1965.
Bailiff of Jersey, Sir Michael Birt, said the island was "immensely proud" of her achievement.
He said: "She has shown great strength of character and I know that her efforts have been widely praised both here in Jersey and overseas.
"It is very fitting that her achievement should be marked with the Churchill Award in this way."
The first Churchill Award was given in 1966 to Denize Le Pennec for being the first Islander to swim the English Channel. She was 16 years old at the time.
Mrs Trehiou was the 26th person in the world to complete the double swim, the 13th woman in the world and the first Channel Islander.
The Churchill Award for Courage was set up by the States to reward acts of bravery performed by members of the uniformed services or by members of the public.
Acts of endurance and perseverance are considered "acts of bravery" by the panel.