Jersey gender discrimination law 'by July 2014'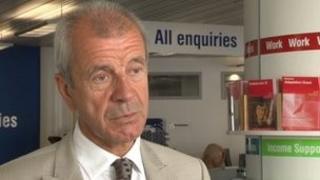 Jersey politicians will debate plans for a gender discrimination law by summer 2014, the Social Security Minister says.
In May the States of Jersey approved a new race discrimination law which is due to come in next year.
Senator Francis Le Gresley said he hoped to have details of the gender discrimination law in place by Easter, to be debated before the summer break.
He said adding other elements would be simple now the main law was in place.
"It is now simple to add new aspects to the law and we hope to debate it before July next year along with maternity leave and family friendly policies," he said.
The discrimination law had been 13 years in the making and make it illegal to discriminate against people based on race in Jersey.
Senator Le Gresley said rules on age and disability would be added later.
"This is an enabling law, to bring it in we needed a characteristic to start with," he said.
"There are very few people who would argue it is wrong to discriminate against somebody on the grounds of race.
"We also believed it would have little impact on employer groups as most had practices that eliminate race discrimination."