Jersey abuse victim complains about inquiry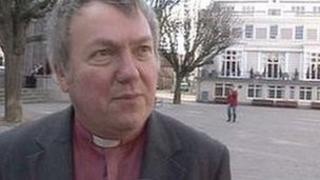 A woman who claimed she was abused by a Jersey churchwarden has made a formal complaint about an ongoing inquiry into how the Deanery dealt with the matter.
Jersey's Dean, The Very Reverend Bob Key, was suspended for two months earlier this year over his alleged mishandling of the claims.
The woman, who can not be named, said the judge reviewing the allegations was biased and conflicted.
Dame Heather Steele, conducting the inquiry, declined to comment.
She told BBC News: "I have no comment to make in respect of any formal complaint against me. My report will be published in due course."
Destitute
Right Reverend Tim Dakin, the Bishop of Winchester has commissioned two inquiries, one led by Dame Heather Steel, into the particular incident and a wider review into safeguarding policies being undertaken by Bishop John Gladwin.
At the end of the inquiry, the judge will write a final dossier for the Diocese, report any relevant findings and recommend any action which should be taken by the Bishop.
He will then provide copies of the report to Bishop Gladwin, the Bailiff of Jersey, Dean Key and the Ministry of Justice - along with "anyone against whom disciplinary action is recommended".
The original complaint was made in 2008 by a 26-year-old woman known as HG who described herself as having been diagnosed with autism.
HG has emailed Dame Heather Steel, who is leading one of the inquiries, saying she is conflicted and biased.
She has also sent the email to Jersey and Hampshire police, various lawyers and the Church of England asking that the former appeal judge in Jersey be taken off the inquiry.
HG is now living destitute in the UK and claims the Church of England let her down.
The States of Jersey Police and Hampshire Constabulary investigated the allegations in 2008 but found there was insufficient evidence to proceed.