Jersey hospital underground parking plea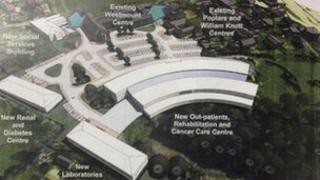 Parking for staff and visitors at Jersey's Overdale Hospital should be underground according to a member of the parish Roads Committee.
Robert Le Brocq told a meeting discussing how Jersey's future hospital could impact on roads in St Helier that it would be the best use of land.
About £300m could be spent refurbishing the hospital and expanding Overdale.
The Health Department said it was confident the Westmount Road site would have ample space for parking.
A spokesman for the department did say they would still be considering parking provision as part of the plans.
Mr Le Brocq said parking at the Crematorium on Westmount Road, near the Overdale hospital, could also be redeveloped to help with parking demand.
If the Treasury Minister's budget is agreed by the States, the redevelopment of the General Hospital plus additional buildings at Overdale will go ahead.
The money will pay for the redevelopment of the existing hospital site in the centre of St Helier and the extension of the Overdale Hospital.
The central site will include eight new operating theatres. The Overdale site at Westmount will provide outpatient care and new laboratory facilities.