Jersey fibre broadband plan on track despite issues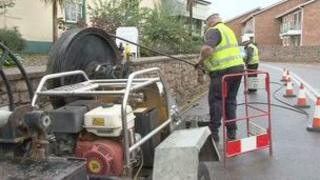 The rollout of superfast broadband in Jersey is on target despite problems in 2012, the project director says.
Government owned telecom company JT plans to replace all copper telephone cables with fibre by 2016.
In 2012 the project had a number of technical and staffing problems.
Dave Newbold from JT said they have recovered from this and would have every home in Jersey connected to the fibre optic broadband network in time.
He said: "I couldn't count the number of challenges we have had on the programme, there have been over a thousand. Some small and some large.
"We had some large contractual problems last year but they are now resolved and I am very pleased with how it is working. We also had some hardware and software problems which have now been corrected."
Contract terminated
The Gigabit Jersey project is funded by JT and the States of Jersey and will see every home connected to the fibre network and have access to internet speeds of up to 1gbps.
In February, the company working with JT on the rollout had their contract terminated as the project was not going to plan.
Mr Newbold said JT had to set up their own employment agency to find more than 100 people to carry out the work as no local company was flexible enough.
There are about 35,000 homes in the island and in the two years since the project started JT has connected about 5,000.
Mr Newbold said it had connected twice as many people in 2013 as 2012, and the connection rate was getting quicker.
He said there were two parts to the rollout, the first involves getting fibre accessible to every home, the second was actually connecting that home to the network.
"Our performance is where we expected it to be, we need to increase the rate of connections and have a plan in place to do that.
"We will finish the core cabling past every premises on the island by the end of September 2014.
"In terms of rollout and how fast we are doing it, it is to do with how we engage with a customer. We make sure everything is planned in advance, we have everything we need is in place before we complete the job," he said.
There are still issues around competition, but Mr Newbold said a deal to allow other operators to sell fibre broadband services using JT lines would be in place soon.