Jersey Mount Bingham rock fall road closed until November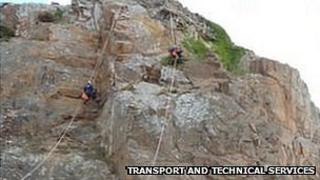 Traffic delays for road users in Jersey are expected to continue until the middle of December.
The road around Mount Bingham, in St Helier, was closed on 16 September after a rock fall.
Its closure and other road works in the area, some of which have since finished, have caused major delays during the rush hour periods.
The States hoped to repair the cliff and reopen the road within weeks but this has been revised to months.
A Technical and Transport Department spokesman said it could now be the middle of November before the rock face was stabilised enough for a single lane to be reopened.
He said work to secure the whole face, which would allow both lanes to reopen, might not be completed until the middle of December.