St Helier parking plan approved by minister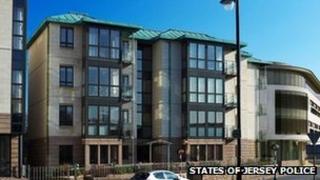 More parking spaces will be made available in St Helier after the planning minister approved new plans.
The plans by the States of Jersey will see 64 new car parking spaces built in Green Street car park.
Deputy Robert Duhamel gave the go ahead for an extension to the deck area on the top floor.
The extra spaces were a condition of the planning minister's approval of the new police headquarters due to be built on the site.
The police HQ will be built on the open area next to Green Street car park.
Bicycle and motorcycle parking will also be provided on land opposite the new headquarters.
Deputy Duhamel said: "The potential impact of building our new police headquarters on Green Street is not unreasonable and will provide the much needed new facilities required by our police force."
The first planning application for the project was submitted in August 2012.
When finished it will mean 673 cars can be parked in the multi-storey.
The Director of Development and Control Peter Le Gresley said the decision was significant.
He said: "Once the property holdings department looked at the scheme in more detail they realised they could get an extra 11 spaces on top of the 53 the minister required."