Jersey honey 'could run out by Christmas'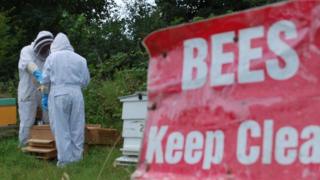 Honey produced by bees in Jersey could run out by Christmas, according to an island beekeeper.
Bob Hogge, president of the Jersey Bee Keepers Association, says colonies are still recovering from an outbreak of "American foulbrood" three years ago.
The bee disease destroyed more than 70 hives on the island.
Mr Hogge said more than 10 cases have been found in Jersey this spring, adding to the already low supply of honey.
He said the new outbreak and the weather had severely affected local honey production.
"It is still on going but was very bad when it started, we lost more than 70 hives in the first year which meant they had to be destroyed and all contents burnt.
"The price of honey is likely to go up. The supply is so low as we had two very poor summers in two years and a poor spring this year. The supply of honey in Jersey will run out at about Christmas time," he said.