Jersey wholesale milk price to rise by 3p a litre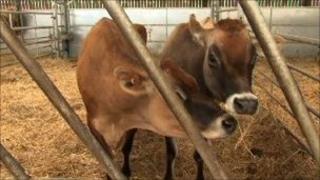 The wholesale price of milk is to rise next month by 3p a litre to help farmers, according to Jersey Dairy.
The dairy said the island's farmers had been struggling with rising production costs.
Only cows' milk produced in Jersey can be sold in the island and the average price of a litre is currently £1.09.
Jersey Dairy says the 3p per litre will be given directly to farmers to help them cover the increasing costs around producing milk.
The price rise will be effective from 4 November.
Farmers say they have been struggling to afford to feed their herds after a wet winter, cold late spring and hot summer, forcing them to import more animal feed.
The dairy said it would also give farmers an extra 2p per litre from the extra revenue generated by increased export sales.
The company announced a deal in June to export products, including UHT milk, to China through Shanghai and Hong Kong distributors.
Jersey Diary says the wholesale price of milk has risen by 18% in 11 years, less than half the UK rate.