Jersey jobless benefit cut plan goes ahead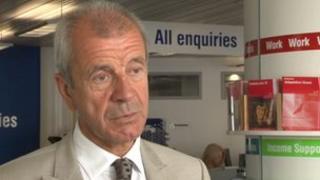 Plans to prevent people on Income Support leaving work without good reason have been approved by Jersey's politicians.
The change allows the Social Security Department to reduce and stop benefits to job seekers who refuse to work.
Social Security Minister, Senator Francis Le Gresley, said it would only affect a few people who were mainly single and under 25.
He said there was also more help for people looking for jobs.
St Helier Deputy Judy Martin said she was concerned the law change could unfairly affect families if money was stopped.
"I have grave concerns," she said. "The wider consequences on the partner with children is that they will not have money for food or electricity for the week."
Under the plan, any claimant registered as actively seeking work who fails to undertake job-seeking activities will be given a written warning, with each further breach leading to increasing financial penalties and the eventual loss of all benefits.
Senator Le Gresley said he would be able to intervene to make sure vulnerable people, partners and children would not be affected if sanctions were taken.
He told States members: "Ministerial discretion will be used in compliance with human rights to protect other members of the family. Vulnerable people, children and sick people will not be affected."