Six Jersey primary schools to be extended to meet rising birth rate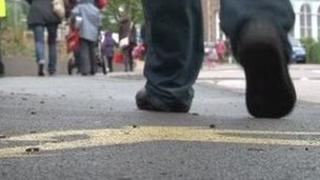 A number of primary schools in Jersey are to be made bigger in response to rising pupil numbers on the island.
Six schools will be extended to provide an extra 14 classrooms, according to the education department.
Half will built at d'Auvergne school in St Helier which becomes the second school in the capital with three classes for each year group, joining Rouge Bouillon.
Births in Jersey have risen from 944 in 2006, to 1125 births in 2012.
There were plans to build a new primary school in St Helier but a suitable site could not be found and the education department said the places were needed in a variety of areas.
As part of the project, an extra class has already been opened at Mont Nicolle school this term with plans for larger play and parking areas.
Extensions will also be added to Plat Douet, Springfield, Trinity and Bel Royal schools over the next three years to increase capacity.
Education Deputy Minister Patrick Ryan said: "Our predictions show that pupil numbers are rising and we will need at least 14 extra classes by 2016.
"Building at d'Auvergne School and the other sites enables us to provide the classes at the right time and in the right parts of the Island, where demand is highest.
"In addition, the schools concerned will benefit from improved facilities and the overall cost of providing the space we need is reduced."
The project is expected to cost just over £10m and should be complete by September 2016.
September 2014
Mont Nicolle School: New class opened in September 2013 to meet demand in the west. The school will also get more play space outside and improved parking.
September 2015
Springfield School: One extra class and improvements to the hall, other internal areas and the outside play space.
Bel Royal School: This is the school for children who have physical disabilities and the project includes significant improvements to improve access and mobility within the school.
Two new classrooms will be built plus physiotherapy space, toilets and new resource areas.
September 2016
D'Auvergne School: Seven extra classes to be built at the back of the existing building. There are also plans for an all-weather play surface, which will benefit the community.
Plat Douet School: Two new classrooms will be built and outside areas will be improved around the reception class area.
Trinity School: One of the smallest primary schools in Jersey. It will see the removal of temporary structures and a new block built including an extra classroom.