Jersey minister plans tax cuts in 2014 budget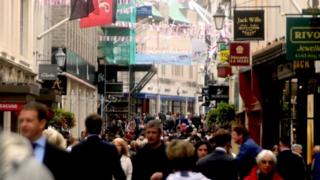 Taxpayers in Jersey could be up to £800 better off next year as the treasury plans to cut income tax.
Treasury Minister, Senator Philip Ozouf, wants to cut the marginal rate by 1% in the 2014 budget.
He said this would see the rate drop from 27% to 26% and would mainly benefit people earning up to £60,000 per year.
The marginal rate is the tax rate paid on the difference between taxable income and any exemptions.
Senator Ozouf also announced a £3,000 increase in the tax allowance for people paying to put a child through university.
This exemption will now be £9,000 per child per year.
The minister said: "A tax cut for 84% of islanders, help for people with children at university. I hope as the weeks pass leading up to this budget debate there will be a return to optimistic and positive feelings for Jersey.
"These are permanent reductions in terms of the burden for low and middle income families. The squeeze is coming to an end and now is the time to give something back."
He has also made £90m available for capital projects, including £16m for the education department to spend on improving six primary schools.
The budget includes funding for the States of Jersey sports strategy which is due to be launched on Thursday.
This will include funding for the Island Games in 2015 which are being hosted by Jersey. There will also be money to help all children to learn to swim by 2015. Funding will come from the criminal confiscation fund.
Smokers and drinkers will be hit by tax increases - something Senator Ozouf says is in line with the States of Jersey health policy.
The duty on tobacco, strong alcohol and fuel are set to rise.
Tim Herbert, from the Liberation Group, said jobs in the hospitality industry will be at risk if the budget plans to increase duty on alcohol go ahead.
He said politicians need to look at the wider impact of any tax increases.
Mr Herbert told BBC News: "States members have to understand there are a lot of hospitality businesses that are struggling.
"If these taxes go through there will be a knock-on effect and some will have to look at their workforce and jobs will be at risk."
The budget also outlines plans to use money from the strategic reserve, a government savings fund currently worth more than £720m, to pay for a new hospital.
Senator Ozouf said: "We wouldn't have been able to envisage a situation where we would have paid for the hospital from the strategic reserve two or three years ago.
"We had unsustainable deficits, we had an uncertain future in terms of the worldwide economy.
"We have not only not touched the strategic reserve but it has been invested and has risen in terms of investment value from £550m to over £720m."
Senator Ozouf will issue public bonds locked into the current record low interest rates. It is hoped this will provide up to £250m to refurbish existing housing and build 1,000 extra homes.
He said: "I am not against borrowing but it should only be against something you can get a return from, housing is something you get a return from.
"The only debt we are taking is wise debt taken at long term historic lows for housing."
The minister said the past five years had been a difficult period as the States needed to balance tax income and spending.
"That work is now complete. We have rebalanced Jersey's public finances, we have secured our position internationally in terms of financial services.
"We are determined to make a strong statement of confidence about our views for the future of Jersey," he added.