Jersey General Hospital to be split over two sites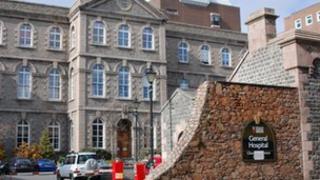 Jersey's hospital will be spread over two sites under plans released by the treasury department.
Residents living near the proposed two sites received letters outlining the plans.
These will see the existing general hospital in the centre of St Helier redeveloped and the Overdale Hospital at Westmount expanded.
Full details of the hospital plans are due to be released after the budget statement on Tuesday.
Assistant Treasury Minister Deputy Eddie Noel said the design was being explained to the neighbours before it was made public.
He said: "The meeting is purely about being a good neighbour and advising people who will be in the vicinity of what we are planning to do."
In 2012 the States of Jersey voted to overhaul the health system including a new hospital.
Deputy Kristina Moore looked into the proposals as part of her work as head of the health scrutiny panel and said the two hospital plan was a "good solution".
"We have been taking a great interest in this issue over the past year or so and think the proposals due to be announced tomorrow are definitely a step in the right direction and an example of good working between departments."