Jersey people recycle 16 tonnes of electrical items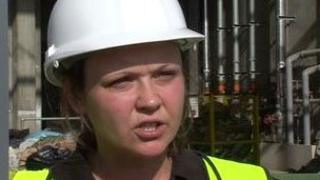 One-off events are the only way to encourage electrical item recycling, Jersey's recycling officer has said.
A total of 16 tonnes of goods, including hairdryers, toasters and DVD players were handed in to temporary collection points, last weekend.
Normally, electrical items can only be recycled at the Household Recycling Centre at Bellozanne.
Officer Emma Richardson-Calladine said no practical solution for permanent collection points had yet been found.
She said items such as TVs could not be put into electrical banks as they are hazardous waste.
Mrs Richardson-Calladine said: "There would be lots of dos and don'ts which might put people off."
She said this is the second time the department had run the recycling collection event and people seemed to see it as a deadline and responded well.
Mrs Richardson-Calladine said: "It was as successful this year. I think we will continue to do them, I hope to do one in the spring."
Everything collected is exported to specialists in the south of England.