Jersey Plemont planning appeal to happen in new year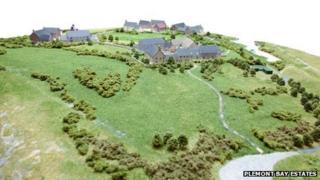 An appeal against a decision to allow development at a Jersey beauty spot will go ahead in January, the St Ouen constable has confirmed.
In September residents of St Ouen voted to take planning minister Deputy Robert Duhamel to court over his decision.
They argue the reasons the minister gave for approving 28 homes on the headland were unjustified.
Constable Michael Paddock said the parish has now hired lawyers to represent its case.
The architect behind the plans, Paul Harding, said the developers will defend their case during the third party appeal next year.
Under Jersey planning law work at the site has had to stop until the outcome of the appeal is known.
'Surplus funds'
Constable Paddock said: "The parish are currently engaging lawyers to represent them and I understand some dates have been singled out for the inquiry at the beginning of January.
"We are confident we have enough money to cover it, it would be paid for by the rates payer but we have enough surplus in the general revenue account that hopefully would help or pay the costs."
The redevelopment of the former holiday camp at Plemont has divided public opinion since it was first suggested.
The plan, by owner Plemont Bay Estates, will see 28 homes built on the beauty spot, with 80% of the site returned to nature.
A public inquiry was led by independent inspector Alan Langton in September 2012 over the application.
Mr Langton recommended it be approved with a number of conditions.