Former farming land could boost Jersey housing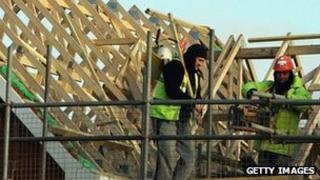 Protected land may have to be given up for housing to meet demand in Jersey, a senior politician has said.
For the past five years about 350 homes have been developed each year - less than the 456 homes needed to meet the government's targets.
But Environment Minister Rob Duhamel said Jersey had the potential supply of housing land.
That could mean building on former agricultural land in places such as Grouville, St Saviour and St Clement.
Plans to re-categorise the four glasshouse sites in the three areas are already being considered.
'Truly affordable'
According to Mr Duhamel's report on residential land availability, there were more than 600 homes under construction at the beginning of the year and planning permission for more than 2,000 more.
However, Kevin Pilley, director of planning policy, said one of the biggest challenges was meeting the demand for affordable housing.
"I think the biggest issue the minister is seeking to respond to is the need for homes that are affordable," he said.
"What his proposals in the plan are seeking to do are to deliver truly affordable homes that meet the island-wide need.
The minister, however, warned that there were no guarantees the States would be "fully supportive of my current proposals to bring forward additional sites to help meet identified needs for affordable homes".
The report said other possible sites for affordable homes included older States rental housing sites and surplus States-owned sites.