Jersey businesses in call to change immigration system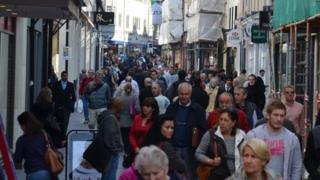 The system for licensing foreign workers in Jersey needs to be more flexible to allow businesses to grow, a business leader said.
David Stearn from finance firm Affinity Private Wealth joined calls for the States to look again at the new immigration policy.
Earlier this year the States introduced a new licensing system for migrant workers and employers.
Treasury Minister, Senator Philip Ozouf, said the system was working.
The new licensing system introduced fees that new migrant workers and their employers have to pay. It also made it harder to get a licence if there were local people capable of doing the job.
'Flawed policy'
Mr Stearn said the changes made it difficult for companies to expand.
"If there are not individuals in the unemployment pool able to do the roles, by having a restrictive immigration policy, you should not force inappropriate resource in otherwise efficiently run businesses, that is a flawed policy.
"We are asking the immigration office for flexibility, to look upon roles where the local pool doesn't provide, to allow people to come in and fill that role," he said.
About 15 business leaders complained at an Institute of Directors meeting that they have had problems employing the staff they need.
Senator Ozouf said many licenses had already been given out and the rejections needed to put into context.
He said: "We need people in Jersey, high-skilled and high-value people and we must welcome them and indeed we will.
"Where the population is concerned, we have 2,000 people unemployed and where there are people who could do the jobs companies are seeking people for then government needs to give an opportunity for those people.
"Hundreds of licences are improved, we have increased the number of high value migrants. Some may have been the wrong decision but they may have been the right decision as well."
The head of Jersey Post, Kevin Keen, said there needed to be a mature debate on immigration.
He said the island needed more highly-skilled workers from overseas to deal with an ageing population.