Jersey shoppers 'put off' by heavy traffic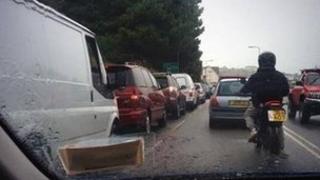 Retailers in Jersey are struggling because the prospect of heavy congestion in town is putting off shoppers, a business leader claimed.
Retailer David Warr said trade was suffering as people were avoiding St Helier.
There have been long tailbacks over the past few days after a rock fall at Mount Bingham.
About 10 tonnes of rock fell into the road at the weekend and officials say the road will be closed for weeks.
Transport officials are asking people who live close to town to walk to work or school to ease the traffic over the next few weeks.
Traffic gridlock
Bus passengers faced delays of more than an hour with services running late throughout the day because of heavy traffic in the morning and afternoon rush hours.
Kevin Hart from bus operator, Liberty Bus said: "The mornings have been worse than the afternoon. We are suffering heavily in the mornings.
"It is having a massive effect on school buses and main network vehicles, it is gridlock.
"A bus operating on the number one route doesn't stay on it all day, it might come off and be route eight later, so it isn't just affecting the east of the island, it is hitting the whole island."
Mr Warr, a former Chamber of Commerce president said he wanted it to be sorted out quickly.
He said: "The reality is that once you have been stuck in a car for longer than anticipated - you probably think - let's leave it for another day.
"Nobody is thinking about the retailer. No landlord is going to drop their rents on a day-to-day basis because of what has been going on, so retailers still have the same costs, meanwhile their sales have been decimated."
Jersey's transport officials have admitted the disruption could last until next month. Transport Minister Deputy Kevin Lewis said he hoped islanders would be understanding.
States of Jersey traffic manager Bob Baudains said the transport authorities were doing the best they could.