Jersey lifeboat rescues woman from Tenacious tall ship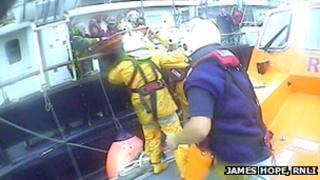 A woman has been rescued from a sailing ship in rain and gale force winds after falling onboard.
The woman, who is believed to be in her 60s, had to be transferred on a stretcher from the Tenacious to the St Helier all-weather lifeboat.
An RNLI spokesman said force eight winds made the operation "tricky".
The tall ship, designed to be crewed by people with disabilities, was moored in St Aubin's Bay when the lifeboat was called at 16:15 BST on Tuesday.
It was on a planned visit to the island.
Once back on shore, the woman was met by a waiting ambulance and taken to hospital with a suspected fracture.
The Jubilee Sailing Trust, which operates the ship, was not able to say whether the woman was a crew member or passenger.
Jonathan Lee from the RNLI said the rescue was "a brilliant example of why all the training we do is so necessary".